philanthropic

phil·an·throp·ic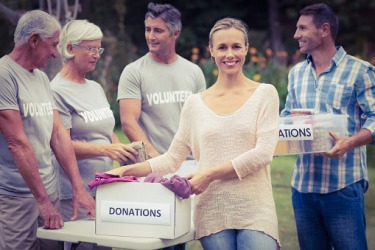 The family often participates in local philanthropic events.
adjective
The definition of philanthropic is someone giving or charitable or someone who likes to do good for others.

A millionaire who gives away lots of money to charity and who volunteers for lots of charitable organizations is an example of someone who would be described as philanthropic.
---
philanthropic
of, showing, or constituting philanthropy; charitable; benevolent; humane
Origin of philanthropic
French
philanthropique
---
philanthropic
also phil·an·throp·i·cal
adjective
Of, relating to, or marked by philanthropy or charitable assistance. See Synonyms at
benevolent
.
Related Forms:
phil′an·throp′i·cal·ly

adverb
---
philanthropic

Adjective
(comparative more philanthropic, superlative most philanthropic)
Of or pertaining to philanthropy; characterized by philanthropy; loving or helping mankind; as, a philanthropic enterprise.
---