partnership

part·ner·ship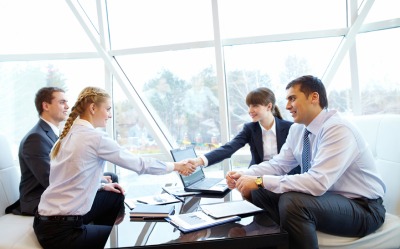 A partnership is formed.
noun
The definition of a partnership is a relationship between two or more individuals.

An example of a partnership is two businesses working together.
An example of a partnership is a marriage.
---
partnership
the state of being a partner; participation
the relationship of partners; joint interest; association

an association of two or more partners in a business enterprise
a contract by which such an association is created
the people so associated
---
partnership
noun
The state of being a partner.

a. A business entity in which two or more co-owners contribute resources, share in profits and losses, and are individually liable for the entity's actions.

b. The persons participating in such a business entity.

A relationship between individuals or groups that is characterized by mutual cooperation and responsibility, as for the achievement of a specified goal: Neighborhood groups formed a partnership to fight crime.
---
partnership

---
partnership - Investment & Finance Definition
A business that has two or more owners who agree to share profits and are liable for any debts or losses. The partnership agreement outlines how profits and losses are to be allocated. A partnership agreement may terminate upon the death or withdrawal of one member, or may include other arrangements in such situations, including allowing the remaining partner or partners to purchase the withdrawing partner's share of the business.
---
partnership - Legal Definition
n
A voluntary joining of two or more persons to jointly carry on and profit from a single business. A partnership is presumed to exist if the persons have agreed to proportionally share the losses and profits from that enterprise.
limited partnership
A partnership comprised of one or more people in charge of the business who are personally responsible for the debts of the partnership (known as general partners) and one or more people who provide capital and share in the profits but who do not manage the business and are responsible only for the amount of their contribution (known as limited partners).
---