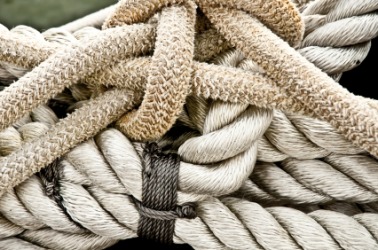 A pile of knotted ropes.
Licensed from iStockPhoto
---
adjective
tied or fastened in or with a knot or knots
having or full of knots
tangled; intricate
puzzling; knotty
Webster's New World College Dictionary
Copyright © 2010 by Wiley Publishing, Inc., Cleveland, Ohio.
Used by arrangement with John Wiley & Sons, Inc.
knotted
Variant of knot
noun
a lump or knob in a thread, cord, etc., formed by passing one free end through a loop and drawing it tight, or by a tangle drawn tight
a fastening made by intertwining or tying together pieces of string, cord, rope, etc.
an ornamental bow of ribbon or twist of braid; cockade; epaulet
a small group or cluster
something that ties or fastens closely or intricately; bond of union; esp., the bond of marriage
a problem; difficulty; entanglement
a knotlike part; node or lump [a knot in a tense muscle]; specif.,

a hard lump on a tree where a branch grows out
a cross section of such a lump, appearing as cross-grained in a board or log
a joint on a plant stem where two leaves grow out
any of several fungal diseases of trees, in which abnormal protuberances appear

Naut.

Historical

any of the knots tied at regular intervals in a line used in measuring a ship's speed
a unit of speed of one nautical mile (6,076.12 feet or 1,852 meters) an hour: abbrev. kn or kt: to average a speed of 10 knots

loosely

nautical mile
Origin: Middle English knotte from Old English cnotta, akin to Dutch knot, Swedish knut, German knoten from Indo-European an unverified form gn-eu-t from base an unverified form gen-, to press together from source knob, knead
transitive verb
knotted, knotting
to tie, fasten, or intertwine in or with a knot or knots; make a knot or knots in
to tie or unite closely or intricately; entangle
to make (fringe) by tying knots
intransitive verb
to form a knot or knots; become entangled
to make knots for fringe