gnarled
gnarled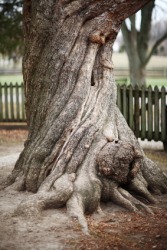 An old gnarled tree.
adjective
The definition of gnarled is being knotty, roughened or misshapen.

An example of something gnarled is the trunk of an old oak tree.
---
gnarled
knotty and twisted, as the trunk of an old tree
roughened, hardened, sinewy, etc., as hands that do rough work
Origin of gnarled
ultimately ; from Middle English
knorre
, a knot: see knur
---
gnarled
adjective
Having gnarls; knotty or misshapen: gnarled branches.
Rugged and roughened, as from old age or work: the gnarled hands of a carpenter.
Origin of gnarled
Probably variant of
knarled
, from
knarl
,
tangle, knot
, alteration of Middle English
knarre
,
knot in wood
; see
knar
.
---
gnarled
---