noun
The definition of a jig is a fishing bait with one or two hooks and a jerking motion that sinks to the bottom of the water.

An example of a jig is what someone fishing off the side of a pier would use as bait.

The definition of a jig is an energetic folk dance, or a template used with a saw for woodworking.

An example of a jig is Irish set dancing.
An example of a jig is a pattern for a curve which is used to create multiple curved shelves.
verb
Jig means to dance quickly by moving up and down.

An example of jig is the movement of Irish folk dancers.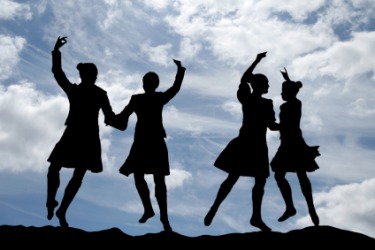 A group of people dancing a jig.
---
jig definition by Webster's New World
noun
a fast, springy sort of dance, usually in triple time
the music for such a dance

any of various fishing lures that are jiggled up and down in the water
any of several mechanical devices operated in a jerky manner, as a sieve for separating ores, a pounding machine, or a drill
a device, often with metal surfaces, used as a guide for a tool or as a template
Origin: probably ; from Middle French giguer, to gambol, dance ; from gigue, a fiddle ; from Middle High German giga (akin to Old Norse gigja) ; from Old High German an unverified form gigan (from source German dialect, dialectal geigen), to move back and forth
noun
Slang
black
(): a hostile and offensive term
Webster's New World College Dictionary Copyright © 2010 by Wiley Publishing, Inc., Cleveland, Ohio. Used by arrangement with John Wiley & Sons, Inc.
---
jig definition by American Heritage Dictionary
noun
a. Any of various lively dances in triple time.

b. The music for such a dance. Also called gigue.

A joke or trick. Used chiefly in the phrase The jig is up.
A typically metal fishing lure with one or more hooks, usually deployed with a jiggling motion on or near the bottom.
An apparatus for cleaning or separating crushed ore by agitation in water.
A device for guiding a tool or for holding machine work in place.
verb
jigged
jigged
,
jig·ging
,
jigs
verb
, intransitive
To dance or play a jig.
To move or bob up and down jerkily and rapidly.
To operate a jig.
verb
, transitive
To bob or jerk (something) up and down or to and fro.
To machine (an object) with the aid of a jig.
To separate or clean (ore) by shaking a jig.
Origin: Origin unknown.
noun
Offensive Slang
Used as a disparaging term for a Black person.
Origin: Probably shortening of jigaboo.
The American Heritage® Dictionary of the English Language, 4th edition Copyright © 2010 by Houghton Mifflin Harcourt Publishing Company. Published by Houghton Mifflin Harcourt Publishing Company. All rights reserved.
---
jig - Phrases/Idioms
the jig is up
☆
Slang
that ends it; all chances for success are gone: said of a risky or improper activity
in jig time
Informal
Very quickly; rapidly.