invective

in·vec·tive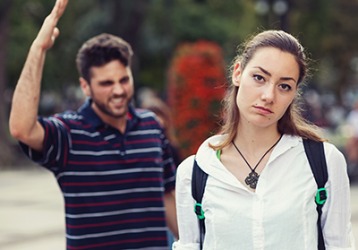 His invective made it clear to Rylie that her boyfriend was incapable of having a healthy relationship.
noun
The definition of invective is strong criticism, insults and abusive or insulting language.

An example of invective is when someone who is angry starts shouting abusive language and hurtful words at you.
---
invective
inveighing; using, inclined to use, or characterized by strong verbal abuse
Origin of invective
Middle English
invectiff
from Middle French
invectif
from Late Latin
invectivus
from Classical Latin
invectus,
past participle of
invehere
: see inveigh
a violent verbal attack; strong criticism, insults, curses, etc.; vituperation
an abusive term, insult, curse, etc.
---
invective
noun
Denunciatory or abusive language; vituperation: an orator known for his abundant use of invective.
A denunciatory or abusive expression or discourse: shouted invectives at the umpire.
Origin of invective
From
Middle English
invectif
denunciatory
from
Old French
from
Late Latin
invectīvus
reproachful, abusive
from
Latin
invectus
past participle of
invehī
to inveigh against
; see
inveigh
.
Related Forms:
---
invective

Adjective
(comparative more invective, superlative most invective)
Characterized by invection or railing.

Tom's speeches became diatribes — each more invective than the last.
Origin
From Middle French invective, from Medieval Latin invectiva ("abusive speech"), from Latin invectīvus, from invectus, perfect passive participle of invehō ("bring in"), from in + vehō ("carry"). See vehicle, and compare with inveigh.
See also:
invectivé
---