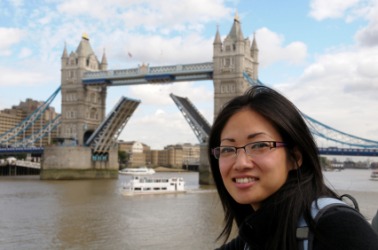 This woman is in the foreground of the picture.
noun
The definition of foreground is the area that is closest to the viewer.

A person posing in a picture in front of the Tower of London is an example of someone who is in the foreground.
---
foreground
the part of a scene, landscape, etc. nearest, or represented in perspective as nearest, to the viewer
the most noticeable or conspicuous position
to bring to or place in the foreground; emphasize; highlight
---
foreground
noun
The part of a scene or picture that is nearest to and in front of the viewer.
See forefront.
transitive verb
fore·ground·ed, fore·ground·ing, fore·grounds
To place in the foreground; call attention to: "He is currently at work on a trilogy of pieces … which foreground the Algerian War" ( Eleanor Heartney )
---
foreground

Noun
(plural foregrounds)
The elements of an image which lie closest to the picture plane.
The subject of an image, often depicted at the bottom in a two-dimensional work.
(computing) the application the user is currently interacting with; the application window that appears in front of all others.
Verb
(third-person singular simple present foregrounds, present participle foregrounding, simple past and past participle foregrounded)
To place in the foreground (physically or metaphorically)
---