emergent

e·mer·gent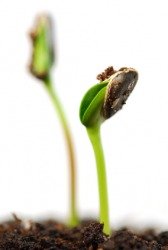 Emergent seedlings.
adjective
The definition of emergent is in the process of becoming something or coming into view, or occurring as a result.

An example of someone who would be described as emergent is a brand new author first becoming famous; an emergent author.
An example of something that would be described as emergent is the economic boom when a series of economic conditions all come together to create a particular economic climate that is primed for major growth; an emergent economy.
noun
An emergent is defined as something that is coming into view.

An example of an emergent is a huge building that can be seen from a great distance and gets larger as you get closer.
---
emergent
emerging
arising unexpectedly or as a new or improved development
recently founded or newly independent: an emergent nation
Origin of emergent
from Classical Latin
emergens
, present participle of
emergere
---
emergent
adjective
a. Coming into view, existence, or notice: emergent spring shoots; an emergent political leader.

b. Emerging: emergent nations.

a. Rising above a surrounding medium, especially a fluid.

b. Of or relating to aquatic plants such as cattails or rushes that are rooted below a body of water or in an area that is periodically submerged but extend above the water level.

c. Relating to an exceptionally tall tree whose crown extends well above the level of the upper canopy.

a. Arising or occurring unexpectedly: money laid aside for emergent contingencies.

b. Demanding prompt action; urgent.

Occurring as a consequence; resultant: economic problems emergent from the restriction of credit.
noun
One that is emerging or coming into view or existence.

a. An emergent aquatic plant.

b. An emergent tree.
---
emergent

Adjective
(comparative more emergent, superlative most emergent)
(botany) taller than the surrounding vegetation
(botany, of a water-dwelling plant) having leaves and flowers above the water
---