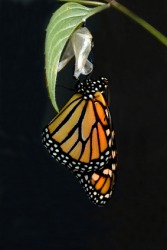 A butterfly emerging from its cocoon.
adjective
The definition of emerging is coming out, coming into view or taking shape, or surviving and coming out from a difficult situation.

When a quiet young girl suddenly begins to find her voice and assert herself, this is an example of her emerging personality.
When the economy finally starts to come out of a slump, this is an example of an emerging economy.
---
emerging
adjective
Newly formed or just coming into prominence; emergent: emerging markets; an overview of the emerging states of Africa in the 1960s.
---
emerging

Adjective
(comparative more emerging, superlative most emerging)
Verb
Present participle of emerge.
---