cotton

cot·ton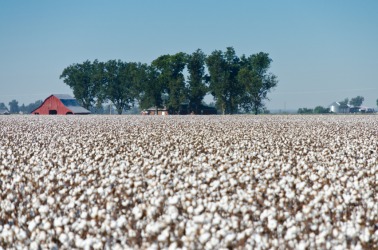 A field of cotton ready for the harvest.
adjective
The definition of cotton is made of the soft and fluffy material that comes from some plants.

An example of cotton used in an adjective is in the phrase "cotton suit."
noun
Cotton is defined as a plant, or the soft cloud-like substance that comes from shrubby plants and is used to make thread or cloth.

An example of cotton is the stuffing inside a teddy bear.
---
cotton
the soft, white seed hairs filling the seedpods of various shrubby plants (genus Gossypium) of the mallow family, originally native to the tropics
a plant or plants producing this material
the crop of such plants
thread or cloth made of cotton
a downy, cottonlike substance growing on other plants
Origin of cotton
Middle English
cotoun
from Old French
coton
from (? via Italian
cotone
) Arabic
qu?un
from uncertain or unknown; perhaps Egyptian
cotton on
Brit., Informal
to begin to comprehend (something)
cotton to
Origin of cotton
< ? notion of cotton mixing well with wool, etc.
Informal
to become drawn to; take a liking to
cotton up to
Informal
to try to ingratiate oneself, or make friends, with
Cotton
1584-1652; Am. Puritan clergyman, born in England: grandfather of Cotton Mather
---
cotton
noun
a. Any of various shrubby plants of the genus Gossypium, having showy flowers and grown for the soft white downy fibers surrounding oil-rich seeds.

b. The fiber of any of these plants, used in making textiles and other products.

c. Thread or cloth manufactured from the fiber of these plants.

Any of various soft downy substances produced by other plants, as on the seeds of a cottonwood.
intransitive verb
cot·toned, cot·ton·ing, cot·tons
Informal
To take a liking; attempt to be friendly: a dog that didn't cotton to strangers; an administration that will cotton up to the most repressive of regimes.
To come to understand. Often used with to or onto : "The German bosses … never cottoned to such changes" ( N.R. Kleinfield )
Origin of cotton
Middle English
cotoun
from
Old French
coton
from
Old Italian
cotone
from
Arabic
qu&tlowdot;n, qu&tlowdot;un
q&tlowdot;n
cotton
cotton plant with bolls
---
cotton

Noun
(usually uncountable, plural cottons)
Gossypium, a genus of plant used as a source of cotton fiber.
(countable) An item of clothing made from cotton.
Adjective
(not comparable)
Made of cotton.
Origin
Middle English cotoun, from Anglo-Norman cotun, Old French coton, from Old Italian (Genoa) cotone, from Arabic (Egypt) قطن (qúţun), Andalusian Arabic [script?] (quṭūn), variants of Arabic قُطْن (quṭn), from root [script?] (*qţn), possibly originally from Ancient Egyptian.
Cognate to Dutch katoen, German Kattun, Italian cotone, Spanish algodón, and Portuguese algodão.
Verb
(third-person singular simple present cottons, present participle cottoning, simple past and past participle cottoned)
To get on with someone or something; to have a good relationship with someone.
Origin
1560s, either from Welsh cydun, cytun ("agree, coincide") (cyduno, cytuno), from cyd, cyt + un ("one"), literally "to be at one with", or by metaphor with the textile, as cotton blended well with other textiles, notably wool in hat-making.
Origin
Old English cot-tūn ("cottage farmstead"), from cot ("cottage") + tūn ("homestead")
Origin
Hebrew קָתָן (katan, "small")
---
cotton - Investment & Finance Definition
An agricultural product that is used to produce cloth and cloth-based products. Futures and options are traded on the New York Cotton Exchange (NYCE), which became a subsidiary of the New York Board of Trade in 1998.
---