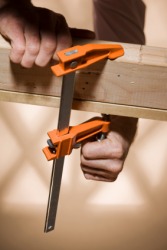 Two boards being held together by wood clamps.
noun
The definition of clamp is a device, such as a brace or band, that holds things together.

A clothespin used to keep a bag of chips shut is an example of a clamp.
verb
The definition of clamp is to fasten things firmly together.

When you use a device to hold a piece of wood firmly in place on a table, this is an example of when you clamp the wood to the table.
---
clamp
any of various devices for clasping or fastening things together, or for bracing parts; esp., an appliance with two parts that can be brought together, usually by a screw, to grip something
Origin of clamp
Middle English from Middle Dutch
klampe
: for Indo-European base see climb
to grip, fasten, or brace with or as with a clamp
to put in effect forcefully; impose: to clamp a curfew on the town
clamp down (on)
to become more strict (with)

the sound of heavy footsteps
Origin of clamp
variant, variety of clump
---
clamp
noun
Any of various devices used to join, grip, support, or compress mechanical or structural parts.
Any of various tools with opposing, often adjustable sides or parts for bracing objects or holding them together.
transitive verb
clamped, clamp·ing, clamps
To fasten, grip, or support with or as if with a clamp.
To establish by authority; impose: clamped a tax on imports.
Phrasal Verbs:
clamp down
To become more strict or repressive; impose controls:
clamping down on environment polluters.
Origin of clamp
Middle English
from
Middle Dutch
klampe
clamp
top: parallel clamp
bottom: C-clamp
---
clamp

Noun
(plural clamps)
A mass of bricks heaped up to be burned; or of ore for roasting, or of coal coking.
A piece of wood (batten) across the grain of a board end to keep it flat, as in a breadboard.
A heavy footstep; a tramp.
Verb
(third-person singular simple present clamps, present participle clamping, simple past and past participle clamped)
(intransitive) To fasten in place or together with (as if with) a clamp.
To modify a numeric value so it lies within a specific range.
---