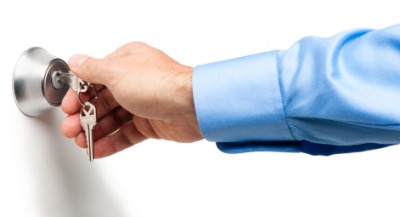 A man unlocks a door.
---
unlock
transitive verb
to open (a lock)
to open the lock of (a door, chest, etc.)

to let loose as if by opening a lock; release: to unlock a torrent of grief
to cause to separate; part: to unlock clenched jaws
to lay open; reveal: to unlock a secret
intransitive verb
to become unlocked
---
unlock
verb
un·locked
,
un·lock·ing
,
un·locks
verb
, transitive
a. To undo (a lock) by turning a key or corresponding part.

b. To undo the lock of.

To give access to; open.
To set free; release: The news unlocked a torrent of emotion.
To provide a key to; disclose or reveal: unlock a mystery.
verb
, intransitive
To become unfastened, loosened, or freed from something that restrains.
---
unlock
Verb
(third-person singular simple present unlocks, present participle unlocking, simple past and past participle unlocked)
---
unlock - Computer Definition
---