checkmate

check·mate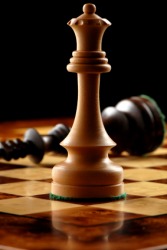 The checkmated black king lying on its side.
noun
The definition of checkmate is a move in the game of chess when the King is trapped and cannot escape or move out of harm's way.

When you have been finally and completely defeated in a chess game and there is no way for you to come back and win, this is an example of checkmate.
---
checkmate
Chess

the move that wins the game by checking the opponent's king so that it cannot be protected
the condition of the king after such a move

complete defeat, frustration, etc.
Origin of checkmate
Middle English
chek mat
from Old French
eschec mat
, ultimately from Persian
š?h m?t
, literally , the king is dead from
š?h
, king +
m?t
, he is dead
Chess
used to signify that one's opponent's king is in checkmate
transitive verb
-·mat·ed

,

-·mat·ing
Chess

to place in checkmate
to defeat completely; frustrate; thwart
---
checkmate
transitive verb
check·mat·ed, check·mat·ing, check·mates
To move a chess piece placing (an opponent's king) under threat of being taken on the next move with no way of escape or defense possible.
To defeat completely.
noun
a. A move in chess that checkmates an opponent's king.

b. The position or condition of a checkmated king.

An utter defeat.
interjection
Used to declare the checkmate of an opponent's king in chess.
Origin of checkmate
Middle English
chekmat
from
Old French
eschec mat
from
Arabic
šāh māt
the king is dead
šāh
king
(
from
Persian
shāh
; see
shah
. )
māt
died
(
from
earlier
māta
to die
mwt
)
---
checkmate

---