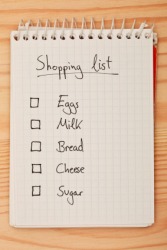 A shopping list is a checklist for going to the store.
noun
The definition of a checklist is a list of things that can be checked off as completed or noted.

An example of a checklist is when you have ten things to do for work and you make a list of all of them and you check them off as you accomplish each of them.
---
checklist
a list of things, names, etc. to be checked off or referred to for verifying, comparing, ordering, etc.
---
checklist
noun
A list of items to be noted, checked, or remembered.
---
checklist

Noun
(plural checklists)
An inventory, especially of species.

a checklist of the plants of the Guiana Shield
---