bristle

bris·tle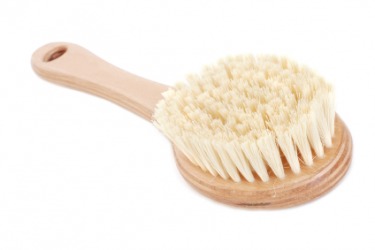 A brush with natural hair bristles.
noun
The definition of a bristle is a stiff hair.

An example of a bristle is the pointy part of a stiff hairbrush.
verb
Bristle means to stand like a stiff hair or to show anger.

An example of to bristle is for a cat's fur to stand straight up when scared.
---
bristle
any short, stiff, prickly hair of an animal or plant

any of the hairs of a hog or of some other animals, used for brushes
such a hair, or an artificial hair like it, in a brush
Origin of bristle
Middle English
bristel,
metathetic from Old English
byrst;
akin to German
borste,
bristles from Indo-European an unverified form
bh?sti-
from base an unverified form
bhar-
, point, bristle
intransitive verb
-·tled

,

-·tling
to become stiff and erect, like bristles
to have the bristles become erect, as in fear or irritation
to show strong anger, irritation, outrage, etc. as by a stiffening of the body
to be thickly covered (with): the battlefield bristled with guns
to cause to stand up like bristles
to put bristles on or in
to make bristly
---
bristle
noun
A stiff hair.
A stiff hairlike structure: the bristles of a wire brush.
verb
bris·tled, bris·tling, bris·tles
verb
intransitive
To stand stiffly on end like bristles: The hair on the dog's neck bristled.
To raise the bristles: The cat bristled at the sight of the large dog.
To react in an angry or offended manner: The author bristled at the suggestion of plagiarism.
To be covered or thick with or as if with bristles: The path bristled with thorns.
verb
transitive
To cause to stand erect like bristles; stiffen.
To furnish or supply with bristles.
To make bristly; ruffle.
Origin of bristle
Middle English
bristel
probably from
Old English
byrstel
from
byrst
bristle
---
bristle

---