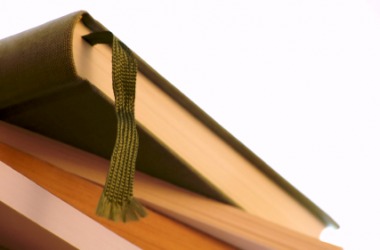 A book with a ribbon bookmark.
noun
The definition of bookmark means a shortcut to a previously viewed website.

The option that you use to save a website in Internet Explorer is an example of a bookmark.

Bookmark is defined as a piece of paper or other object used to mark a place in a book.

The long piece of printed cardstock that you get with your purchase at a bookstore is an example of a bookmark.
verb
Bookmark means to save website addresses for easy access in the future.

A researcher saving Internet sites with source material in an example of to bookmark.
---
bookmark
anything slipped between the pages of a book to mark a place

Comput.

a digital pointer that a user can create for gaining easy access to a Web page, a portion of text in a file, etc.
Comput.
to create a bookmark to (a Web page, portion of text, etc.)
---
bookmark
noun
A strip of material, as of ribbon or leather, or a metal clamp, that is placed between the pages of a book to mark the reader's place.
A record of a selected webpage or URL kept by a program such as a web browser or help utility. Bookmarks allow the user to find and return to a selected site by clicking an easily recognizable link.
transitive verb
book·marked, book·mark·ing, book·marks
To make a bookmark for (a webpage or URL).
---
bookmark

Verb
(third-person singular simple present bookmarks, present participle bookmarking, simple past and past participle bookmarked)
(computing) To create a bookmark.
---
bookmark - Computer Definition
A stored location for quick retrieval at a later date. Web browsers provide bookmarks that contain the addresses (URLs) of favorite sites. Most electronic references, large text databases and help systems provide bookmarks that mark a location users want to revisit in the future. See Favorites, bookmark portal and bookmarklet.
---