verb
The definition of beware is to be cautious of and alert to potential dangers or risks.

If you need to be cautious of hitting a deer when driving on a dark road, this is an example of when you need tobeware of deer.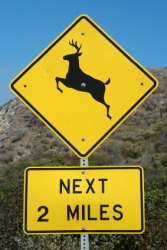 Beware of deer crossing this road.
---
beware definition by Webster's New World
Webster's New World College Dictionary Copyright © 2010 by Wiley Publishing, Inc., Cleveland, Ohio. Used by arrangement with John Wiley & Sons, Inc.
---
beware definition by American Heritage Dictionary
verb
be·wared
,
be·war·ing
,
be·wares
verb
, transitive
To be on guard against; be cautious of: "Beware the ides of March" (Shakespeare).
verb
, intransitive
To be cautious; exert caution: We had to beware of the icy patches on the road. Beware of the dog.
Origin: Middle English ben war : ben, to be; see be + war, on one's guard; see ware2.