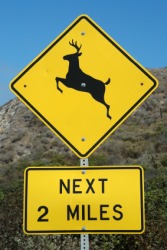 Beware of deer crossing this road.
verb
The definition of beware is to be cautious of and alert to potential dangers or risks.

If you need to be cautious of hitting a deer when driving on a dark road, this is an example of when you need to beware of deer.
---
beware
to be wary or careful (of); be on one's guard (against): used in the imperative or infinitive
Origin of beware
associated, association with be, imperative + ware, but probably from Old English
bewarian,
to keep watch from
be-
+
warian,
to watch, be wary
---
beware
verb
be·wared, be·war·ing, be·wares
verb
transitive
To be on guard against; be cautious of: "Beware the ides of March" ( Shakespeare )
verb
intransitive
To be cautious; exert caution: We had to beware of the icy patches on the road. Beware of the dog.
Origin of beware
Middle English
ben war
ben
to be
; see
be
.
war
on one's guard
; see
ware
2
.
---
beware

Verb
(third-person singular simple present -, present participle -, simple past and past participle -)
(defective, intransitive) To use caution, pay attention (to) (if intransitive, construed with of).
Usage notes
The verb beware has become a defective verb and now lacks forms such as the third-person singular simple present bewares and the simple past bewared. It can only be used imperatively (Beware of the dog!) or as an infinitive (You must beware of the dog or They told me to beware of the dog).
The inflected forms bewares, bewared, and bewaring are called obsolete in Fowler's Dictionary of Modern English Usage, along with the simple indicative "I beware". The forms bewares and bewared are very rarely found in modern texts, though bewaring is slightly less rare. These inflections are more likely to be found in very old texts.
The meanings conveyed by the obsolete inflected forms may be easily achieved by splitting "be" and "ware", conjugating "be", and possibly replacing "ware" with the more modern "wary"; thus, "bewares" > "is wary", "bewared" > "was wary", etc.
---