noun
The definition of a berry is a small fruit that grows from a single ovary in a plant.

Facts About the Berry

Berries from the group called Aggregate Fruits are what most people recognize as berries. These fruits are collections of seeds that have formed from different ovaries within a single blossom. Each of the seeds has a matured ovary around it, which is the juice filled portion that animals and humans enjoy.
Cranberries and blueberries are false berries because they are made from another part of the plant than the ovaries.

Examples of the Aggregate Fruit group are blackberries, raspberries and boysenberries.

Berry means a dried seed or kernel of certain plants like coffee or wheat.

An example of a berry is a single grain of wheat.
verb
To berry is defined as to create a soft, fleshy fruit.

An example of to berry is a plant making fruit in the spring.

Berry is defined as to look for and pick small berries.

An example of to berry is to go pick blackberries when they are growing wild.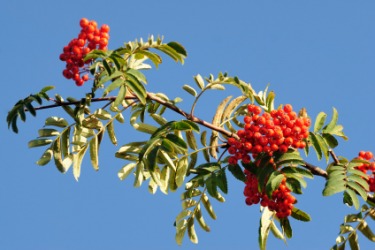 Some red berries on a branch.
---
berry definition by Webster's New World
noun
pl.
berries
any small, juicy, fleshy fruit, as a strawberry or raspberry
the dry seed or kernel of various plants, as a coffee bean or wheat grain
an egg of a lobster, crayfish, etc.

Bot.

a fleshy fruit with a soft wall and thin skin, as the tomato, grape, or cranberry
Origin: Middle English and amp; Old English berie, a berry, grape, akin to Old Norse ber, Gothic weina-basi, literally , wine berry
or Berri
historical region in central France: chief city, Bourges
Webster's New World College Dictionary Copyright © 2010 by Wiley Publishing, Inc., Cleveland, Ohio. Used by arrangement with John Wiley & Sons, Inc.
---
berry definition by American Heritage Dictionary
noun
pl.
ber·ries
Botany An indehiscent fruit derived from a single ovary and having the whole wall fleshy, such as the grape or tomato.
A small, juicy, fleshy fruit, such as a blackberry or raspberry, regardless of its botanical structure.
Any of various seeds or kernels, as of dried wheat.
The small, dark egg of certain crustaceans or fishes.
intransitive verb
ber·ried
,
ber·ry·ing
,
ber·ries
To hunt for or gather berries: went berrying in July.
To bear or produce berries.
Origin: Middle English berye, from Old English berie; see bhā-1 in Indo-European roots.
A historical region and former province of central France. Purchased by the French crown in 1101, it became an independent duchy in 1360 and reverted to the crown in 1601.
, Charles Edward Anderson Known as "Chuck." Born 1926.
American guitarist, singer, and songwriter considered among the earliest and most influential rock 'n' roll performers.
The American Heritage® Dictionary of the English Language, 4th edition Copyright © 2010 by Houghton Mifflin Harcourt Publishing Company. Published by Houghton Mifflin Harcourt Publishing Company. All rights reserved.
---
berry - Science Definition
A simple fruit that has many seeds in a fleshy pulp. Grapes, bananas, tomatoes, and blueberries are berries. Compare drupe, pome. See more at simple fruit.
A seed or dried kernel of certain kinds of grain or other plants such as wheat, barley, or coffee.
Usage
Cucumbers and tomatoes aren't usually thought of as berries, but to a botanist they are in fact berries, while strawberries and raspberries are not. In botany, a berry is a fleshy kind of
simple fruit
consisting of a single ovary that has multiple seeds. Other true berries besides cucumbers and tomatoes are bananas, oranges, grapes, and blueberries. Many fruits that are popularly called berries have a different structure and thus are not true berries. For example, strawberries and raspberries are
aggregate fruits,
developed from multiple ovaries of a single flower. The mulberry is not a true berry either. It is a
multiple fruit,
like the pineapple, and is made up of the ovaries of several individual flowers.