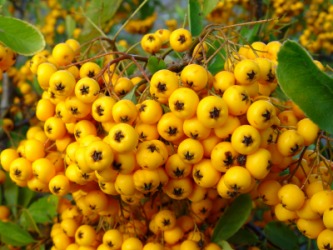 A berried bush.
---
berried definition by Webster's New World
adjective
producing or covered with berries
like a berry, as in shape
bearing eggs: said of lobsters, crayfish, etc.
Webster's New World College Dictionary Copyright © 2010 by Wiley Publishing, Inc., Cleveland, Ohio. Used by arrangement with John Wiley & Sons, Inc.
---
berried definition by American Heritage Dictionary
adjective
Having or bearing berries: berried branches; a berried plant.
Resembling a berry or berries: "an off-dry, berried flavor" (New York Times).
Bearing eggs. Used especially of egg-bearing crustaceans or fishes: a berried lobster.
berried
Variant of berry
noun
pl.
berries
any small, juicy, fleshy fruit, as a strawberry or raspberry
the dry seed or kernel of various plants, as a coffee bean or wheat grain
an egg of a lobster, crayfish, etc.

Bot.

a fleshy fruit with a soft wall and thin skin, as the tomato, grape, or cranberry
Origin: Middle English and amp; Old English berie, a berry, grape, akin to Old Norse ber, Gothic weina-basi, literally , wine berry