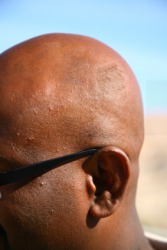 A bald man.
adjective
The definition of bald is to have an absence of hair.

An example of someone who is bald is Vin Diesel.
verb
To bald is to lose your hair.

An example of someone beginning to bald is a man whose hair is thinning and he is starting to have less hair on his head.
---
bald
having white fur or feathers on the head, as some animals and birds
having no hair on all or part of the scalp
not covered by natural growth: bald hills
having the tread nearly or completely worn off: a bald tire
bare; plain; unadorned: the bald facts
frank and blunt: a bald statement
Origin of bald
Middle English
balled
, associated, association with
bal,
ball, but probably ultimately from Indo-European base an unverified form
bhel-
, gleaming, white from source Classical Greek
phalos
, white,
phalakros
, bald, Old Prussian
ballo,
forehead
---
bald
adjective
bald·er, bald·est
Lacking hair on the head.
Lacking a natural or usual covering: a bald spot on the lawn.
Lacking treads: a bald tire.
Zoology Having white feathers or markings on the head, as in some birds or mammals.
Lacking ornamentation; unadorned.
Undisguised; blunt: a bald statement of policy.
Origin of bald
Middle English
balled
probably from
bal
ball
; see
ball
1
.
Sense 4, perhaps partly of Celtic origin
Welsh
bal
having a white streak on the forehead (of horses)
Irish
ball
spot, mark
and
English
blaze
white mark on the face of an animal
; see
blaze
2
.
Related Forms:
---
bald

Adjective
(comparative balder, superlative baldest)
Of a statement: empirically unsupported.
Noun
(plural balds)
(Appalachian) A mountain summit or crest that lacks forest growth despite a warm climate conducive to such, as is found in many places in the Southern Appalachian Mountains.
Verb
(third-person singular simple present balds, present participle balding, simple past and past participle balded)
(intransitive) to become bald
Origin
From Middle English balled ("bald"), from ball ("white spot, blaze") (+ -ed), from Old English *bala ("white patch, blaze"), from Proto-Germanic *balô ("flame"), from Proto-Indo-European *bʰel- ("light, bright"). Cognate with Danish bældet ("bald"), Gothic - (bala-, "shining, grey (of body)"), Old English bǣl ("fire, flame; funeral pyre"). Cognate with Albanian balë ("white spot on the forehead") and ball ("forehead").
See also:
bäld
See also:
bald
---