altar

al·tar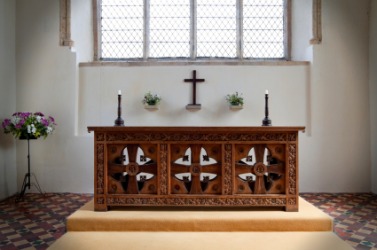 A Christian altar.
noun
The definition of an altar is an elevated place where religious rituals are performed.

The place where a Catholic priest stands during the Mass is an example of an altar.
---
altar
a place, esp. a raised platform, where sacrifices or offerings are made to a god, an ancestor, etc.
a table, stand, etc. used for sacred purposes in a place of worship, as the Communion table in Christian churches
Origin of altar
Middle English
alter
from Old English
altare
and Old French
alter
; both from Classical Latin
altare
, high altar from
altus
, high: see altitude
---
altar
noun
An elevated place or structure before which religious ceremonies may be enacted or upon which sacrifices may be offered.
A structure, typically a table, before which the divine offices are recited and upon which the Eucharist is celebrated in Christian churches.
Origin of altar
Middle English
auter
from
Old English
altar
Old French
auter
both from
Latin
altāre
---
altar

Origin
From Latin altare ("altar"), probably related to adolere ("burn"); thus "burning place", influenced by a false connection with altus ("high").
---