mould

mould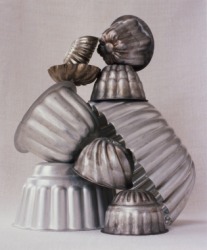 A stack of molds for gelatin
noun
Mould is the British spelling for mold, which is defined as a container that is used to set something's shape or is a fungus that grows.

An example of mould is a container used to shape clay into a particular shape.
An example of mould is a fungus that grows on top of old food.

YourDictionary definition and usage example. Copyright © 2018 by LoveToKnow Corp

Link to this page

Cite this page

MLA Style

"mould." YourDictionary, n.d. Web. 14 January 2019. <https://www.yourdictionary.com/mould>.

APA Style

mould. (n.d.). Retrieved January 14th, 2019, from https://www.yourdictionary.com/mould
---
mould

Webster's New World College Dictionary, Fifth Edition Copyright © 2014 by Houghton Mifflin Harcourt Publishing Company. All rights reserved.
Link to this page
Cite this page
MLA Style
"mould." YourDictionary, n.d. Web. 14 January 2019. <https://www.yourdictionary.com/mould>.
APA Style
mould. (n.d.). Retrieved January 14th, 2019, from https://www.yourdictionary.com/mould
---
Sentence Examples
---
Glass is blown into an oblong box-shaped iron mould, about 12 in.
A bottle mould rises and envelops the mass of molten glass.
The mass of glass, yielding, to its own weight and the pressure of air or steam, sinks downwards and adapts itself to any mould or receptacle beneath it.
It is by this time mere vegetable mould and undistinguishable pond shore, through which rushes and flags have pushed up.
Rubber mixed in the usual way with about WA of sulphur is now softened by heat, forced into the mould, and retained there by pressure during the operation of curing, which is usually effected in an iron box heated over a gas burner to 140° C.
WORDS NEAR mould IN THE DICTIONARY
---