noun
The definition of a yacht is a medium or large luxury sailboat or ship that is used to cruise around or race.

A medium-sized boat that is used to sail from port to port in the Mediterranean is an example of a yacht.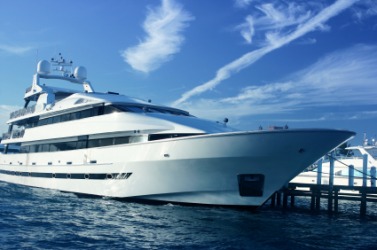 A luxury yacht.
---
yacht definition by Webster's New World
noun
any of various relatively small vessels for pleasure cruises, racing, etc.
Origin: Dutch jacht, earlier jaghte, short for jaghtschip, pursuit ship (i.e., against pirates) ; from jaght, a hunt ; from jagen, to chase plush schip, a ship
intransitive verb
to sail or cruise in a yacht
Webster's New World College Dictionary Copyright © 2010 by Wiley Publishing, Inc., Cleveland, Ohio. Used by arrangement with John Wiley & Sons, Inc.
---
yacht definition by American Heritage Dictionary
noun
Any of various relatively small sailing or motor-driven vessels, generally with smart graceful lines, used for pleasure cruises or racing.
intransitive verb
yacht·ed
,
yacht·ing
,
yachts
To sail, cruise, or race in a yacht.
Origin: Probably obsolete Norwegian jagt, from Middle Low German jacht, short for jachtschip : jagen, to chase (from Old High German jagōn) + schip, ship.