toddler

tod·dler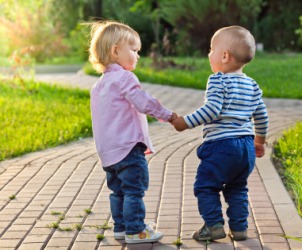 A pair of cute toddlers.
noun
The definition of a toddler is a young child who is just learning to walk.

A three-year-old girl who is not yet fully steady on her feet is an example of a toddler.
---
toddler
a very young child, esp. one just learning to walk
---
toddler
noun
One who toddles, especially a young child learning to walk.
---
toddler

Noun
(plural toddlers)
A quite young human being, typically two to three years old, but can refer to any child that has started walking, up to about four years old, or at the time they have mastered walking.
A traffic cone.
Origin
toddle ("walk unsteadily") +"Ž -er ("(agent)") - literally "one who walks unsteadily", hence a young child (not yet able to walk steadily).
---