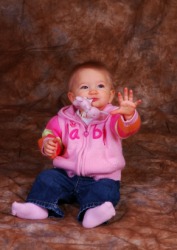 A baby waves bye bye
interjection
The definition of bye-bye is a baby-talk expression used when leaving or parting.

An example of bye-bye is when a mother has a baby wave and see daddy off to work. She might say "tell Daddy bye bye."
---
bye-bye
go bye-bye
to depart; leave: a child's term
---
bye-bye
interjection
Used to express farewell.
adverb
Informal
Away.
To bed; to sleep: "

[Live Senate television is]

a great way to go bye-bye. Pretty soon you're asleep" ( William Proxmire )
Origin of bye-bye
Reduplication of
bye
2
---
bye-bye

Interjection
bye-bye
(informal, often childish) Goodbye.
Noun
(plural bye-byes)
(colloquial, often childish) A goodbye.
(colloquial, often childish) bedtime for a toddler, going to sleep, going to bed.
---