tobacco

to·bac·co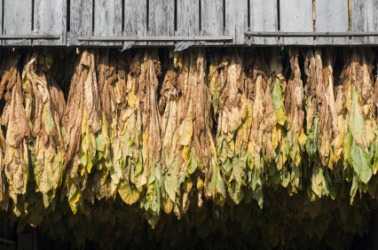 Drying tobacco leaves.
noun
The definition of tobacco is a plant that yields nicotine-rich leaves, or nicotine-rich leaves that have been prepared to be smoked or chewed.

The plant used to produce leaves that go into making Newports, Marlboro Lights or other cigarettes is an example of tobacco.
---
tobacco
noun
pl.
-·cos
any of a genus (Nicotiana) of chiefly tropical American plants of the nightshade family, with hairy, sticky foliage and long-tubed, white, yellow, greenish, or purple flowers; esp., the species (N. tabacum) now widely cultivated for its leaves
the leaves of certain of these plants, prepared for smoking, chewing, or snuffing
products prepared from these leaves; cigars, cigarettes, snuff, etc.
the use of tobacco for smoking, etc.
Origin of tobacco
Spanish
tabaco
from uncertain or unknown; perhaps ; perhaps an old Spanish name transferred to the New World plant
---
tobacco
noun
pl.
to·bac·cos,
or
to·bac·coes
a. The tropical American plant Nicotiana tabacum of the nightshade family, widely cultivated for its leaves, which are used primarily for smoking.

b. The leaves of this plant, dried and processed chiefly for use in cigarettes, cigars, or snuff or for smoking in pipes.

Any of various other plants of the genus Nicotiana.
Products made from these plants.
The habit of smoking tobacco: I gave up tobacco.
Origin of tobacco
Spanish
tabaco
probably partly from a Taíno word recorded by a Spanish chronicler as
tabago
a tube for inhaling smoke or powdered intoxicating plants
and partly from
Old Spanish
atabaca, altabaca
a Mediterranean plant ( Inula viscosa ) having sticky, aromatic leaves widely used in traditional medicine
(
from
Arabic
al-&tlowdot;ubbāq
) (
al-
the
) (
&tlowdot;ubbāq, &tlowdot;abbāq
the plant I. viscosa
) (
from
Syriac
dubāqā
birdlime, elm mucilage used as glue
) (
from
dbaq
to cling
) (
akin to
Arabic
dabiqa
) (
and
Hebrew
dābaq
to cling
)
---
tobacco

Noun
(countable and uncountable, plural tobaccos)
(uncountable) Any plant of the genus Nicotiana.
(uncountable) Leaves of Nicotiana tabacum and some other species cultivated and harvested to make cigarettes, cigars, snuff, for smoking in pipes or for chewing.
(countable) A variety of tobacco.

Tobaccos from the Connecticut Valley were used for wrapping cigars.
Origin
Attested since 1588, a loan from Spanish tabaco. The Spanish word is either from Arabic طباق (á¹­abāq, á¹­ubāq, "a type of medicinal herb") or from a Taino word meaning "roll of tobacco leaves" or "a pipe for smoking tobacco". The term is thus either an Old World term (of Arabic origin) applied to a New World plant, or a New World word.
---