slander

slan·der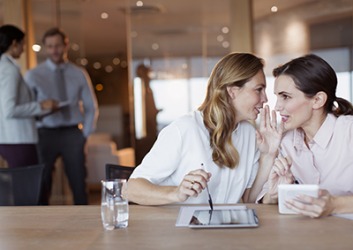 Stacey attempted to slander her coworker because she wanted to divert attention away from her own inadequacies.
noun
Slander is making a false statement about someone that hurts his reputation.

Saying someone is a murderer when he isn't is an example of slander.
verb
Slander is to make false statements about someone, usually to hurt his reputation.

When you tell everyone that an innocent man is a murderer, this is an example of when you slander the innocent man.
---
slander
the utterance in the presence of another person of a false statement or statements, damaging to a third person's character or reputation: usually distinguished from libel, which is written
such a spoken statement
Origin of slander
Middle English
sclaunder
from Anglo-French
esclaundre
(OFr
esclandre, escandle
) from Ecclesiastical Late Latin
scandalum
: see scandal
---
slander
noun
Law Oral communication of false and malicious statements that damage the reputation of another.
A false and malicious statement or report about someone.
verb
slan·dered, slan·der·ing, slan·ders
verb
transitive
To utter a slander about. See Synonyms at
malign
.
verb
intransitive
To utter or spread slander.
Origin of slander
Middle English
slaundre
from
Old French
esclandre
alteration of
escandle
from
Latin
scandalum
cause of offense, stumbling block
; see
scandal
.
Related Forms:
---
slander

Verb
(third-person singular simple present slanders, present participle slandering, simple past and past participle slandered)
to utter a slanderous statement
Origin
13th century. From Old French esclandre, from Ecclesiastical Latin scandalum ("stumbling block, temptation"), from Ancient Greek σκάνδαλον (skandalon, "scandal").
---
slander - Legal Definition
n
Falsely spoken words that tend to damage another person's reputation; defamation. The truth of such words is an absolute defense against slander. Unlike libel, unless the slander is defamatory per se, damages caused by slander must be proven by the plaintiff. See also
libel
.
slander per quod
A form of slander that does not qualify as slander per se, thereby requiring the plaintiff to prove special damages.
slander per se
A form of slander that need not be proven to qualify for damage, because its meaning is apparent on the face of the statement and involves moral turpitude, a sexually transmitted disease, conduct adversely impacting one's profession or business, or lack of chastity (especially when applied to women).
---