short tempered
short-tem·pered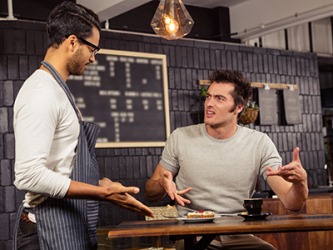 Meryl became short tempered with the waiter when his latte was not made exactly as he ordered.
adjective
The definition of short tempered is someone who is quick to get mad.

An example of short tempered is a person who starts to yell every single time something goes wrong, whether big or small.
---
short-tempered
having a tendency to lose one's temper; easily or quickly angered
---
short-tempered
adjective
Easily or quickly moved to anger; irascible.
---
short-tempered

Adjective
(comparative more short-tempered, superlative most short-tempered)
---