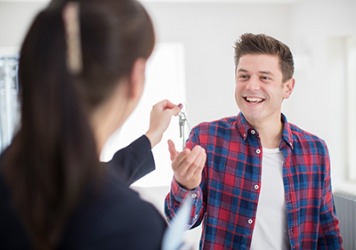 Brent signed a short term lease for the apartment because he works temporary assignments for his employer.
adjective
The definition of short term is something temporary or not meant to last.

An example of short term is a one week lease.
---
short-term
for or extending over a short time
designating or of a bond, capital gain, etc. that involves a relatively short period of time, usually less than a year, for maturity, repayment, amortization, etc. or for computing tax liability
designating memory involving recent facts or events
over or for a short period of time
---
short-term
adjective
Involving or lasting a relatively brief time.

a. Payable or reaching maturity within a relatively brief time, such as a year: a short-term loan.

b. Acquired over a relatively brief time: short-term capital gains.
---
short-term

Adjective
(comparative shorter-term, superlative shortest-term)
of or pertaining to the near or immediate future.

This short-term plan deals with the next few days.

of or pertaining to a short duration of time

short-term exposure
Adjective
(not comparable)
Alternative spelling of short-term.
Noun
(uncountable)
The near future; a comparatively brief time period starting with the present moment (other time of reference); the time in which immediate needs and goals are relevant.
Usage notes
Except in attributive uses (treated here as adjectival; see short-term), this term is primarily found in the phrases in the short term and over the short term.
---