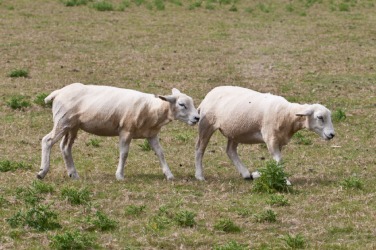 These sheep have been sheared.
adjective
The definition of sheared is something that has had its fur evenly trimmed.

An example of sheared is a sheep that has had its wool cut off.
---
sheared
subjected to shearing; esp., designating fur trimmed to give it an even surface: sheared beaver
---
sheared
adjective
Shaped or finished by shearing, especially cut or trimmed to a uniform length: a sheared fur coat.
---
sheared

Verb
Simple past tense and past participle of shear.
---