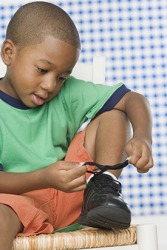 Self reliance such as learning to tie one's own shoes gives children a sense of pride and accomplishment.
noun
Self reliance is the ability to depend on yourself to get things done and to meet your own needs.

An example of self reliance is growing your own food.
---
self-reliance
reliance on one's own judgment, abilities, etc.
---
self-reliance
noun
Reliance on one's own capabilities, judgment, or resources; independence.
Related Forms:
self′-re·li′ant

adjective
self′-re·li′ant·ly

adverb
---
self-reliance

---