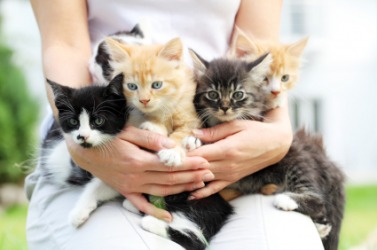 A woman holds a selection of kittens.
noun
The definition of a selection is a person or thing that's been picked or are available to pick.

An example of a selection is a cat chosen from a litter of kittens.
An example of a selection is a litter of kittens to choose from at the humane society.
---
selection
a selecting or being selected

a person or thing chosen
a group or collection of these
a variety from which to choose: a selection of colors

Biol.

any process, natural or artificial, by which certain organisms or characters are favored or perpetuated in, or as if in, preference to others
Origin of selection
Classical Latin
selectio
---
selection
noun
The act of selecting something: looked at the pears and made a careful selection.
One that is selected, such as a literary or musical text chosen for reading or performance: For her last selection she sang an old favorite.

a. A carefully chosen or representative collection of people or things: a book containing a selection of the author's best work.

b.

A range of things from which one can make a choice:

a store with a wide selection of magazines.

See Synonyms at

choice

.

Biology A natural or artificial process that involves the survival and reproduction of some kinds of organisms instead of others (because they have traits that are better adapted to the environment or that are preferred by a breeder, for example) and results in changes in the traits of a population or species.
Related Forms:
---
selection

Noun
(plural selections)
The process or act of selecting.

The large number of good candidates made selection difficult.

Something selected.

My final selection was a 1934 Chateau Lafitte.

A variety of items taken from a larger collection.

I've brought a selection of fine cheeses to go with your wine.

A musical piece.

For my next selection, I'll play Happy Birthday in F-sharp minor.
Origin
From Latin sÄ"lÄ"ctiō ("the act of choosing out, selection"), from sÄ"lÄ"ctus, perfect passive participle of sÄ"ligō ("choose out, select"), from sÄ"- ("apart") + legō ("gather, select").
---