scrawny
scraw·ny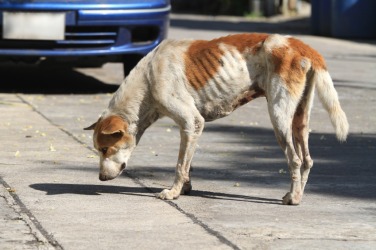 A poor scrawny dog.
adjective
The definition of scrawny is very thin or skinny.

An example of a scrawny person is someone who is very bony and severely underweight.
---
scrawny
-·nier

,

-·ni·est
very thin; skinny and bony
stunted or scrubby
Origin of scrawny
probably variant, variety of dialect, dialectal
scranny
, lean, thin ; from Scandinavian base from source scrannel
---
scrawny
adjective
scraw·ni·er
,
scraw·ni·est
Very thin and bony: "It was the new fashion to be scrawny down to the bone, with gaunt cheeks and big staring eyes" (Mary Sharratt). See Synonyms at lean2.
Stunted or straggly: scrawny pines.
Origin of scrawny
Alteration of dialectal
scranny
,
possibly of Scandinavian origin
; akin to Norwegian
skran
,
lean
.
Related Forms:
---
scrawny
Origin
Perhaps from Old Norse skrælna ("to be shrivelled") .
---