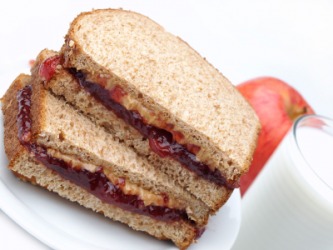 A peanut butter and jelly sandwich.
noun
The definition of a sandwich is two slices of bread with filling in between them, or something arranged in this layered form.

An example of a sandwich is peanut butter and jelly between two pieces of whole wheat bread.
verb
Sandwich is defined as to squeeze or place between two people or things.

An example of sandwich is to wiggle and squeeze into line between two people.
---
sandwich
two or more slices of bread with a filling of meat, fish, cheese, jam, etc. between them: now sometimes used of a single slice of bread covered with meat, gravy, etc.
anything in a layered arrangement like a sandwich
Origin of sandwich
after John Montagu, 4th Earl of Sandwich (1718-92), said to have eaten these in order not to leave the gaming table for meals
to place or squeeze between two other persons, places, things, materials, etc.
Sandwich
town in Kent, SE England, near the Strait of Dover: one of the Cinque Ports
Origin of Sandwich
Old English
Sandwic
from
sand
, sand +
wic
, wick
---
sandwich
noun
a. Two or more slices of bread with a filling such as meat or cheese placed between them.

b. A partly split long or round roll containing a filling.

c. One slice of bread covered with a filling.

Something resembling a sandwich: She layered a scoop of vanilla ice cream between two cookies to create a sandwich.
transitive verb
sand·wiched, sand·wich·ing, sand·wich·es
To insert (one thing) tightly between two other things often of differing character or quality. "She showed me her wedding band, which was sandwiched on the same finger between two prettier, fancier rings" ( Dan Leone )
To collide with or crash into (a person, for example) with impacts on opposing sides: The quarterback passed the football just before he was sandwiched by two linebackers.
To make room or time for: sandwiched a vacation between business trips.
Origin of sandwich
After John Montagu, Fourth Earl of
Sandwich
(1718-1792), British politician
Sandwich
A town of southeast England north of Dover. One of the original Cinque Ports, it is now a resort and market center.x
---
sandwich

Noun
(plural sandwiches)
An open sandwich
Any combination formed by layering material of one type between two layers of material of another type
Verb
(third-person singular simple present sandwiches, present participle sandwiching, simple past and past participle sandwiched)
To place one item between two other, usually flat, items
(figuratively) To put or set something between two others, in time.
Usage notes
The adjective sense is used primarily by restaurants specializing in barbeque, and does not imply that the meal includes an actual sandwich.
Origin
Named after its supposed inventor, the Earl of Sandwich (see Sandwich).
Proper noun
a town in Kent, south-east England, one of the historic Cinque Ports
an English habitational surname originating from this town
one of several younger towns named after the town in Kent or after a person bearing the surname:
Origin
The family name is from Old English Sandwicæ, a place in Kent, lit. "sandy harbor."
---