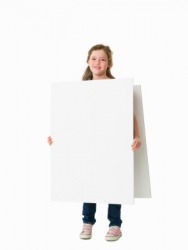 A girl wearing a blank sandwich board.
---
sandwich board
a pair of signboards hung, one in front and one behind, from the shoulders of a person paid to walk the streets displaying them
---
sandwich board
noun
A pair of large placards, hinged at the top by straps for hanging over the shoulders with one board in front and the other behind, used for picketing or advertising.
A pair of signboards fastened at their tops and separated at their bases to form a freestanding structure, as for sidewalk or roadside advertising.
---
sandwich board
Noun
(plural sandwich boards)
A person-sized, wearable billboard or advertisement consisting of two printed boards strung together so that they hang over the shoulders, thereby sandwiching the wearer.
Verb
sandwich board, sandwich boarding
to advertise or campaign using a sandwich board; to wear a sandwich board.
---