salesman

sales·man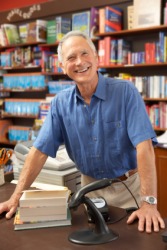 A salesman at a bookstore.
noun
The definition of a salesman is a person who is employed in the job of promoting products and services and getting people to buy them.

Someone who comes to your door and tries to get you to buy a vacuum cleaner is an example of a salesman.
---
salesman
noun
pl.
-·men
a man employed as a salesclerk
sales representative
---
salesman
noun
A man who is a salesperson.
---
salesman

---