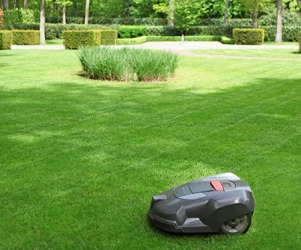 A robot lawn mower might be a good investment for people who dislike yard work.
noun
The definition of a robot is a machine that can do specific tasks, and sometimes is given human characteristics, or a person who automatically does work without question or emotion.

An example of a robot is the machine that puts bolts on a car door in an assembly line.
An example of a robot is the Roomba, a machine that automatically vacuums your house.
An example of a robot is a secretary who answers phones in a monotone all day long.
---
robot
an anthropomorphic mechanical being, as in science fiction
any mechanical device operated automatically, esp. by remote control, to perform repetitive or complex tasks, as in manufacturing

any person who acts or works in a way regarded as mechanical and without originality
Origin of robot
coined by K. ?apek in his play
R.U.R.
(transl. as
Rossum's Universal Robots
) (1920) from Czech
robota,
forced labor from Old Church Slavonic
rabota,
menial labor from
rabu,
servant from Indo-European base an unverified form
orbho-
: see orphan
---
robot
noun
A mechanical device that sometimes resembles a human and is capable of performing a variety of often complex human tasks on command or by being programmed in advance.
A machine or device that operates automatically or by remote control.
A person who works mechanically without original thought, especially one who responds automatically to the commands of others.
A form of urban dance involving a succession of separate movements executed with precision in imitation of a robot.
Origin of robot
Czech
from
robota
drudgery
; see
orbh-
in Indo-European roots.
Related Forms:
Word History:
Robot
has been in English since 1923, when Karel Čapek's 1921 play
R.U.R.
was translated into English from Czech and presented in London and New York. The play's title,
R.U.R.,
is an abbreviation of
Rossum's Universal Robots,
the name of a corporation in the play that makes robots to serve as slave labor for humanity. However, Čapek's robots—the original robots—are quite different from the standard-issue robots of later 20th-century science fiction, such as C3PO and R2D2 of
Star Wars,
that seem to be assembled from metal, silicon, and other non-biological materials. Čapek's robots are assembled out of something like flesh and blood, made according to a secret formula. Their flesh is mixed like dough in mixing machines and their nerves and veins are spun out on spinners. Eventually, during the course of the play, the robots grow tired of their subservient position and stage a rebellion that places the very future of humanity in peril. The robots take over the world, but it becomes clear that they also feel emotions like love and are worthy successors to humanity.
Robot
and
robotka,
the words Čapek uses in Czech for the male and female versions of these sentient biological automatons, are derived from the Czech word
robota,
"servitude, forced labor."
---
robot

Noun
(plural robots)
A machine built to carry out some complex task or group of tasks, especially one which can be programmed.
(chiefly science fiction) An intelligent mechanical being designed to look like a human or other creature, and usually made from metal.
(South Africa) A traffic light (from earlier robot policeman).
(surveying) A theodolite which follows the movements of a prism and can be used by a one-man crew.
Origin
From Czech robot, from robota ("drudgery, servitude"). Coined in the 1921 science-fiction play R.U.R. (Rossum's Universal Robots) by Karel ÄŒapek after having been suggested to him by his brother Josef , and taken into the English translation without change.
---
robot - Computer Definition
A stand-alone hybrid computer system that performs physical and computational activities. Capable of performing many tasks, a robot is a multiple-motion device with one or more arms and joints. Robots can be similar in form to a human, but industrial robots do not resemble people at all. The term is attributed to Czech dramatist Karel Capek in his 1921 play titled "R.U.R. - Rossum's Universal Robots." Capek applied the Czech word "robota," which means "forced labor" or "servitude" to the mechanized people in the skit. Three years later, robots appeared in Fritz Lang's classic silent movie "Metropolis," and they have been with us ever since. A Wide Variety of Applications In manufacturing, robots are used for welding, riveting, scraping and painting. They are also deployed for demolition, fire and bomb fighting, nuclear site inspection, industrial cleaning, laboratory use, medical surgery (see telepresence surgery), agriculture, forestry, office mail delivery as well as many other tasks. Increasingly, more artificial intelligence is being added. For example, some robots can identify objects in a pile, select the objects in the appropriate sequence and assemble them into a unit (see AI). Analog and Digital Robots use analog sensors for recognizing real-world objects and digital computers for direction. Analog to digital converters convert temperature, motion, pressure, sound and images into binary code for the robot's computer, which directs the actions of the arms and joints by pulsing their motors. See AIBO.
---