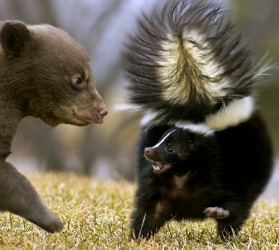 If the bear cub continues to bother the skunk, he might experience the revulsion of the skunk's pungent spray.
noun
Revulsion is a strong, or even violent, feeling of dislike or disgust.

An example of revulsion how a person reacts to the smell of a skunk.
---
revulsion
Rare

a withdrawal

Archaic

a sudden, complete, and violent change of feeling; abrupt, strong reaction in sentiment
extreme disgust, shock, or repugnance; feeling of great loathing
Origin of revulsion
from French or L; French
révulsion
from Classical Latin
revulsio
from
revulsus,
past participle of
revellere,
to pluck away from
re-,
back +
vellere,
to pull from Indo-European base an unverified form
wel-,
to snatch, seize, injure from source Old English
wol,
pestilence, Old Norse
valr,
the slain on the battlefield
---
revulsion
noun
A sudden strong change or reaction in feeling, especially a feeling of violent disgust or loathing.
Archaic A withdrawing or turning away from something.
Medicine The reduction of superficial inflammation in an affected body part, as by topical agents, in order to decrease inflammation in adjacent structures.
Origin of revulsion
Latin
revulsiō
revulsiōn-
from
revulsus
past participle of
revellere
to tear back
re-
re-
vellere
to tear
Related Forms:
---
revulsion

---