relic

rel·ic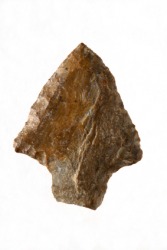 This arrowhead is a relic from an ancient time.
noun
The definition of a relic is something old that has survived.

An old tool from ancient times is an example of a relic.
---
relic
an object, custom, etc. that has survived, wholly or partially, from the past
something that has historic interest because of its age and associations with the past, or that serves as a keepsake, or souvenir

[pl.] remaining fragments; surviving parts; ruins
relict (noun)

Eccles.

the body or a body part of, or some object associated with, a saint, martyr, etc., kept and reverenced as a memorial, as in the Roman Catholic and Eastern Orthodox churches
Origin of relic
Middle English
relike
from Old French
relique
from Classical Latin
reliquiae
, plural , remains from
relinquere:
see relinquish
---
relic
noun
Something that has survived the passage of time, especially an object or custom whose original culture has disappeared: "Corporal punishment was a relic of barbarism" ( Cyril Connolly )
Something cherished for its age or historic interest.
An object kept for its association with the past; a memento.
An object of religious veneration, especially a piece of the body or a personal item of a saint.
or relics A corpse; remains.
Origin of relic
Middle English
relik
object of religious veneration
from
Old French
relique
from
Late Latin
reliquiae
sacred relics
from
Latin
remains
from
reliquus
remaining
from
relinquere
relīqu-
to leave behind
; see
relinquish
.
---
relic

Noun
(plural relics)
That which remains; that which is left after loss or decay; a remaining portion.
Something old kept for sentimental reasons.
(religion) A part of the body of a saint, or an ancient religious object, kept for veneration.
Usage notes
By comparison with synonyms, relic emphasizes age, and to some degree value - a "relic of a lost civilization".
---