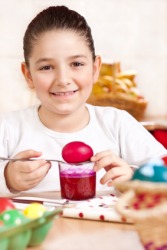 A girl colors an egg using red dye.
noun
Red dye is an artificial coloring added to food and makeup; however, the FDA has banned numbers two and four as they may cause cancer.

An example of red dye is something you put into a solution for coloring Easter eggs.
---
red dye
any of several artificial red pigments added to cosmetics or food: dyes number two and number four are banned by the FDA as possible carcinogenic additives
---