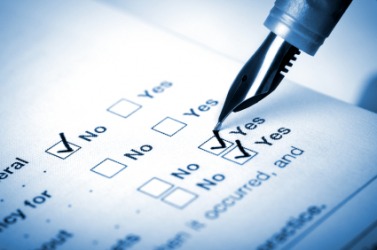 Filling out a questionnaire.
noun
Questionnaire is a form or a document that contains a series of questions to be answered.

An example of a questionnaire is a form you fill out to give feedback on a product.
---
questionnaire
a written or printed form used in gathering information on some subject or subjects, consisting of a set of questions to be submitted to one or more persons
Origin of questionnaire
Fr: see question, transitive verb
---
questionnaire
noun
A form containing a set of questions, especially one addressed to a statistically significant number of subjects as a way of gathering information for a survey.
Origin of questionnaire
French
from
questionner
to ask
from
Old French
from
question
legal inquiry
; see
question
.
---
questionnaire

Verb
(third-person singular simple present questionnaires, present participle questionnairing, simple past and past participle questionnaired)
to survey using questionnaires
---