questionnaire
[kwes′c̸hə ner′, -tyə-]
noun
Questionnaire is a form or a document that contains a series of questions to be answered.

An example of a questionnaire is a form you fill out to give feedback on a product.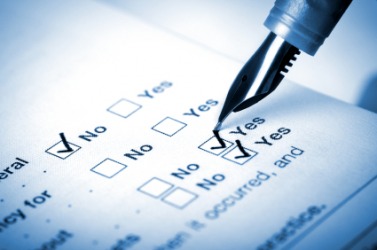 Filling out a questionnaire.
---
questionnaire
noun
a written or printed form used in gathering information on some subject or subjects, consisting of a set of questions to be submitted to one or more persons
Origin of questionnaire
Fr: see question,
---
questionnaire
noun
A form containing a set of questions, especially one addressed to a statistically significant number of subjects as a way of gathering information for a survey.
Origin of questionnaire
French, from
questionner
,
to ask
, from Old French, from
question
,
legal inquiry
; see
question
.
---
questionnaire
Verb
(third-person singular simple present questionnaires, present participle questionnairing, simple past and past participle questionnaired)
to survey using questionnaires
Origin
Borrowing from French questionnaire, from Late Latin quaestionarius, from quaestio (English question) + -arius, from quaerō ("I question") (English query).
---