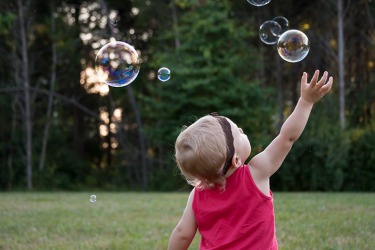 The young child protracts her arm to touch the bubbles.
verb
Protract is to extend something or drag something out.

An example of protract is when you explain something in 20 minutes that could be explained in 2 minutes.
An example of protract is when you extend your arm.
---
protract
to draw out; lengthen in duration; prolong
to draw to scale; using a protractor and scale

Zool.

to thrust out; extend
Origin of protract
from Classical Latin
protractus
, past participle of
protrahere
from
pro-
, forward +
trahere
, to draw
---
protract
transitive verb
pro·tract·ed, pro·tract·ing, pro·tracts
To draw out or lengthen in time; prolong: disputants who needlessly protracted the negotiations.
Mathematics To draw to scale by means of a scale and protractor; plot.
Anatomy To extend or protrude (a body part).
Origin of protract
Latin
prōtrahere
prōtract-
prō-
forth
; see
pro-
1
.
trahere
to drag
Related Forms:
---
protract

Verb
(third-person singular simple present protracts, present participle protracting, simple past and past participle protracted)
To use a protractor.
(surveying) To draw to a scale; to lay down the lines and angles of, with scale and protractor; to plot.
To put off to a distant time; to delay; to defer.

to protract a decision or duty

To extend; to protrude.

A cat can protract and retract its claws.
Origin
From the past participle stem of Latin prōtrahō.
---