adverb
Piano is defined as the sound level when music is played softly.

An example of a piece that would be described as being played "piano" is a musical piece that is played very quietly.
noun
The definition of a piano is a large keyboard instrument with keys that strike wires which are stretched a metal frame inside a wooden case, or a piece of music that is written to be performed with a soft volume.

An example of a piano is a large instrument that you play by pressing black and white keys that cause hammers to hit wires to produce sound.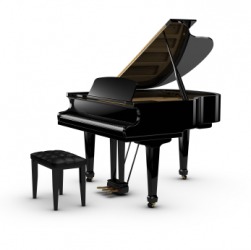 A black grand piano.
---
piano
adjective
,
adverb
soft(ly): often used as a musical direction
Origin of piano
Italian soft, smooth ; from Classical Latin
planus,
smooth, plane
noun
pl.
pianos
a passage to be performed piano
noun
pl.
pianos
a large keyboard instrument, each key of which operates a small, felt-covered hammer that strikes and vibrates a corresponding wire or set of wires stretched on a metal frame that is enclosed in a wooden case of various forms
Origin of piano
Italian contr. ; from
pianoforte
---
piano
noun
pl.
pi·an·os
A musical instrument with a manual keyboard actuating hammers that strike wire strings, producing sounds that may be softened or sustained by means of pedals.
Origin of piano
Italian, short for
pianoforte
; see
pianoforte
.
piano1
top: upright piano
bottom: grand piano
piano1
Music
adverb
& adj.
Abbr.
p
In a soft or quiet tone. Used chiefly as a direction.
noun
pl.
pi·a·nos
A passage to be played softly or quietly.
Origin of piano
Italian, from Late Latin
plānus
,
smooth, graceful
, from Latin,
flat
; see
pel&schwa;-
2
in Indo-European roots.
---
piano
Noun
(plural pianos or piani)
(music) A keyboard musical instrument, usually ranging over seven octaves, with white and black keys, played by pressing these keys, causing hammers to strike strings.

The piano in his house takes up a lot of space.
She has been taking lessons for many years and now plays piano very well.
He can play "Happy Birthday" on the piano.
Most of the works by Frédéric Chopin are for the piano.
Adjective
(comparative more piano, superlative most piano)
Origin
Short form of pianoforte, from Italian piano ("soft") + forte ("strong"). So named because older keyboard instruments, notably the harpsichord and the clavier, could not produce varied volumes.
---