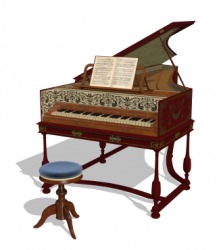 A harpsichord.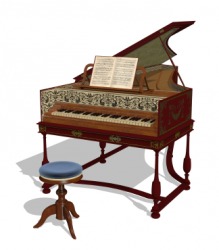 An old cembalo or harpsichord.
---
harpsichord definition by Webster's New World
noun
a stringed musical instrument with a keyboard, often with two manuals: the strings are plucked by points of leather or quill when the keys are pressed, producing short, abrupt tones
Origin: obsolete French harpechorde or Italian arpicordo ; from arpa (LL harpa ; from Germanic an unverified form harpa: see harp) plush corda (see cord); -s- is intrusive
Webster's New World College Dictionary Copyright © 2010 by Wiley Publishing, Inc., Cleveland, Ohio. Used by arrangement with John Wiley & Sons, Inc.
---
harpsichord definition by American Heritage Dictionary
noun
A keyboard instrument whose strings are plucked by means of quills or plectrums.
Origin: Alteration of obsolete French harpechorde, from Italian arpicordo : arpa, harp (from Late Latin harpa, of Germanic origin) + corda, string (from Latin chorda, from Greek khordē; see gherə- in Indo-European roots).
Related Forms:
The American Heritage® Dictionary of the English Language, 4th edition Copyright © 2010 by Houghton Mifflin Harcourt Publishing Company. Published by Houghton Mifflin Harcourt Publishing Company. All rights reserved.
---
harpsichord - Cultural Definition
A stringed keyboard instrument much used in the baroque era in music. The keys of a harpsichord move small devices that pluck the strings; the strings are not struck with hammers, as in a piano. Thus, although harpsichords often look much like pianos, their characteristic tinkly sound is unlike that of the piano, and a harpsichordist cannot change the volume of the sound by striking the keys harder, as a pianist can.