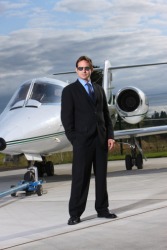 Adam considers the use of the corporate jet the most desirable perquisite of being on the board of directors.
noun
The definition of a perquisite is a special privilege of your position or status, or a tip or gratuity.

Getting to use the corporate jet is an example of a perquisite of being a CEO.
If the boss gets a new laptop every year and customarily hands his old one down to his employee, this is an example of a perquisite.
---
perquisite
something additional to regular profit or pay, resulting from one's position or employment, esp. something customary or expected
a tip or gratuity
a privilege or benefit to which a person, institution, etc. is entitled by virtue of status, position, or the like; prerogative; right
Origin of perquisite
Middle English
perquysite
from Medieval Latin
perquisitum,
something acquired from neuter past participle of
perquirere,
to obtain, purchase from L, to search diligently for from
per-,
intensive +
quaerere,
to seek: see query
---
perquisite
noun
A payment, profit, or benefit received in addition to a regular wage or salary, especially when due or expected.
Something regarded or claimed as an exclusive right by virtue of one's social position or rank: "The family had the perquisites of the upper-middle class, employing a maid, a chauffeur-gardener, and an Irish Catholic nanny" ( Ira Bruce Nadel ) See Synonyms at right.
A gratuity; a tip.
Origin of perquisite
From
Middle English
perquisites
property acquired otherwise than by inheritance
from
Medieval Latin
perquīsītum
acquisition
from
Latin
neuter past participle of
perquīrere
to search diligently for
per-
per-
quaerere
to seek
---
perquisite

Noun
(plural perquisites)
(mostly plural) Any monetary or other incidental benefit beyond salary.

The perquisites of this job include health insurance and a performance bonus.

A gratuity.

After the wonderful service that evening he didn't hesitate in laying a substantial perquisite on the table.

A privilege or possession held or claimed exclusively by a certain person, group or class.

Private jets and motor yachts are a perquisite of the rich.
Origin
From Medieval Latin perquisitum (something acquired for profit).
---