noun
The definition of a parish is a church district, the members of a particular church or a county-type division in Louisiana.

An example of a parish is the city of Hereford in England.
An example of a parish is everyone who attends a certain church every week.
An example of a parish is La Salle in Louisiana.
YourDictionary definition and usage example. Copyright © 2013 by LoveToKnow Corp.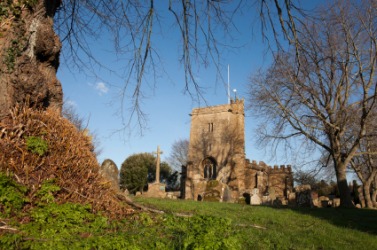 An English parish church.
Licensed from iStockPhoto
---
noun
a British church district with its own church and clergyman
a district of British local civil government, often identical with the original church parish
an administrative district of various churches, esp. a part of a diocese, under the charge of a priest or minister

the members of the congregation of any church
the territory in which they live

☆ a civil division in Louisiana, corresponding to a county
Origin: Middle English parissche from Old French parroche from Ecclesiastical Late Latin parochia, for paroecia from Ecclesiastical Late Greek paroikia, a diocese from Gr, a sojourning (in a foreign land, or, by early Christians, on earth) from paroikos, a stranger from para- (see para-) plush oikos, dwelling: see eco-
Webster's New World College Dictionary
Copyright © 2010 by Wiley Publishing, Inc., Cleveland, Ohio.
Used by arrangement with John Wiley & Sons, Inc.
---
noun
a. An administrative part of a diocese that has its own church in the Anglican, Roman Catholic, and some other churches.

b. The members of such a parish; a religious community attending one church.

A political subdivision of a British county, usually corresponding in boundaries to an original ecclesiastical parish.
An administrative subdivision in Louisiana that corresponds to a county in other U.S. states.
Origin: Middle English, from Old French parroche, from Late Latin parochia, diocese, alteration of paroecia, from Late Greek paroikiā, from Greek, a sojourning, from paroikos, neighboring, neighbor, sojourner : para-, near; see para-1 + oikos, house; see weik-1 in Indo-European roots.
The American Heritage® Dictionary of the English Language
, 4th edition Copyright © 2010 by Houghton Mifflin Harcourt Publishing Company. Published by Houghton Mifflin Harcourt Publishing Company. All rights reserved.