brethren
[bret̸h′rən; often, -ərn]
noun
The definition of brethren are members of a group, especially a male religious order.

A group of Christian men who are all part of the same religious order are an example of brethren.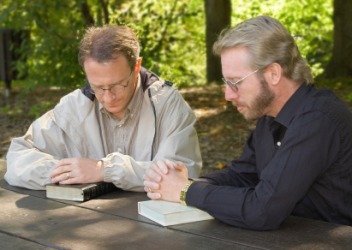 Brethren praying together.
---
brethren
plural noun
brothers: now chiefly in religious use
Origin of brethren
Middle English
bretheren,
plural : see
brother
---
brethren
noun
A plural of brother.
Brethren Any of various Protestant denominations, especially those arising out of the Anabaptist and Pietist movements in Central Europe between the 15th and 18th centuries.
---
brethren
Noun
(archaic) plural form of brother
(figuratively) the body of members, especially of a fraternal, religious or military order
Usage notes
The plural "brethren" is generally used for members of an organization, especially a religious body, whereas the plural "brothers" is used in the familial sense as well as for larger groups.
Origin
From Early Modern English brethren (plural of brother), from Middle English brethere, brether + -en (plural ending), alteration, due to Old English brēþer (dative singular), of Old English brōþor, brōþru ("brothers, brethren"). Compare German Brüder ("brothers, brethren"). More at brother. The vowel change from o to e is called umlaut.
---
brethren
Variant of brother
noun
pl. brothers, brethren
a man or boy as he is related to the other children of his parents: sometimes also used of animals
a man or boy related to one by having a parent in common; half brother
a stepbrother
a foster brother
a close male friend who is like a brother
a fellow human being
a male fellow member of the same race, church, profession, organization, etc.: fraternity brother, soul brother
a lay member of a men's religious order

Informal

any man: often used as a familiar term of address
Origin of brother
Middle English ; from Old English
brothor
; from Indo-European base an unverified form
bhrāter
from source Gothic
brothar,
Classical Latin
frater,
Old Irish
brāthir,
Sanskrit
bhrātar
, Classical Greek
phratēr
interjection
Slang
used to provide emphasis, often at the beginning of one's remarks