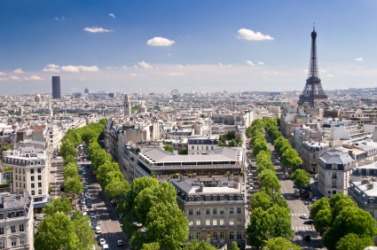 The rooftops of Paris, France.
---
Paris
noun
Gr. Legend
a son of Priam, king of Troy: his kidnapping of Helen, wife of Menelaus, causes the Trojan War
Origin of Paris
Classical Latin ; from Classical Greek
capital of France, in the NC part, on the Seine: pop. 2,166,000
---
Paris
The capital and largest city of France, in the north-central part of the country. Founded as a Gallic fishing village on an island in the Seine River, Paris was captured and fortified by the Romans in 52 BC. Clovis I made it the capital of his kingdom after AD 486, and Hugh Capet established it as the capital of France after 987. Through the succeeding centuries, Paris grew rapidly as a commercial, cultural, and industrial center. The city was occupied by the Germans in World War II from 1940 to 1944.
Related Forms:
Pa·ris′ian

adjective

& n.
---
Paris
---