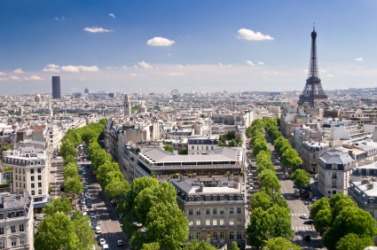 The rooftops of Paris, France.
---
Paris definition by Webster's New World
noun
Gr. Legend
a son of Priam, king of Troy: his kidnapping of Helen, wife of Menelaus, causes the Trojan War
Origin: Classical Latin ; from Classical Greek
capital of France, in the NC part, on the Seine: pop. 2,166,000
Webster's New World College Dictionary Copyright © 2010 by Wiley Publishing, Inc., Cleveland, Ohio. Used by arrangement with John Wiley & Sons, Inc.
---
Paris definition by American Heritage Dictionary
noun
Greek Mythology
The prince of Troy whose abduction of Helen provoked the Trojan War.
The capital and largest city of France, in the north-central part of the country on the Seine River. Founded as a fishing village on the Île de la Cité, Paris (then called Lutetia) was captured and fortified by the Romans in 52 B.C. Clovis I made it the capital of his kingdom after A.D. 486, and Hugh Capet established it as the capital of France after his accession to the throne in 987. Through the succeeding centuries, Paris grew rapidly as a commercial, cultural, and industrial center. The city was occupied by the Germans in World War II from June 14, 1940, to August 25, 1944. Population: 2,150,000.
Related Forms:
Pa·risˈian

adjective

& n.
, Matthew 1200?-1259.
English monk and chronicler. His Chronica Majora traced the history of the world from the creation to 1259.
The American Heritage® Dictionary of the English Language, 4th edition Copyright © 2010 by Houghton Mifflin Harcourt Publishing Company. Published by Houghton Mifflin Harcourt Publishing Company. All rights reserved.
---
Paris - Cultural Definition
Capital of France and the largest city in the country, located in north-central France on the Seine River; an international cultural and intellectual center, as well as the commercial and industrial focus of France.
In the Treaty of Paris (1783), Britain formally acknowledged the independence of the thirteen colonies as the United States.

In the 1920s, Paris was home to many artists and writers from the United States and other countries.

During World War II, German troops occupied the city from 1940 to 1944.

The city's tourist attractions include the Eiffel Tower, the Louvre Museum, and the Cathedral of Notre Dame de Paris. The Champs Élysées is the most famous of its many celebrated streets, avenues, and boulevards.

Paris is a center for fashion and design.

It is called the "City of Light."