noun
The definition of a parachute is a cloth device that is used to slow the fall of a person or thing, especially from an airplane.

The canopy that floats above a skydiver at the end of the fall is an example of a parachute.
verb
Parachute is to drop out of the sky and fall slowly with the help of a cloth device that is designed to slow a person's fall.

To fall from an airplane with a special backpack and cloth device that can slow you down is an example of parachute.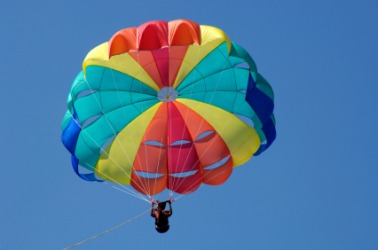 A skydiver under his parachute.
---
parachute definition by Webster's New World
noun
a cloth contrivance usually shaped like an umbrella when expanded, and used to retard the falling speed of a person or thing dropping from an airplane, etc.: it is generally carried folded in a pack, from which it is released by a rip cord or other device
something shaped like or having the effect of a parachute

Zool.

patagium (sense )
Origin: Fr: see para- (sense ) and amp; chute
Webster's New World College Dictionary Copyright © 2010 by Wiley Publishing, Inc., Cleveland, Ohio. Used by arrangement with John Wiley & Sons, Inc.
---
parachute definition by American Heritage Dictionary
noun
An apparatus used to retard free fall from an aircraft, consisting of a light, usually hemispherical canopy attached by cords to a harness and worn or stored folded until deployed in descent.
Any of various similar unpowered devices that are used for retarding free-speeding or free-falling motion.
verb
par·a·chut·ed
,
par·a·chut·ing
,
par·a·chutes
verb
, transitive
To drop (supplies or troops, for example) by means of a parachute.
verb
, intransitive
To descend by means of a parachute.
Origin: French : para(sol), parasol; see parasol + chute, fall; see chute.
Related Forms:
parˈa·chutˌist, parˈa·chutˌer

noun