noun
The definition of an oasis is a fertile place where there is water in the midst of a desert or a place of calm in the midst of chaos.

An example of an oasis is an underground spring in a desert.
An example of an oasis is a calm and peaceful room in the midst of a chaotic house.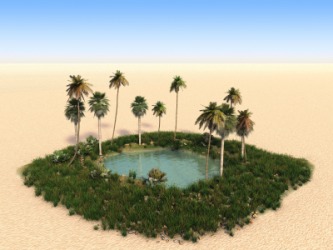 An oasis in a desert.
---
oasis definition by Webster's New World
noun
pl.
oases
a fertile place in a desert, due to the presence of water
any place or thing offering welcome relief as from difficulty or dullness
Origin: Classical Latin ; from Classical Greek fertile spot: origin, originally Coptic
Webster's New World College Dictionary Copyright © 2010 by Wiley Publishing, Inc., Cleveland, Ohio. Used by arrangement with John Wiley & Sons, Inc.
---
oasis definition by American Heritage Dictionary
noun
pl.
o·a·ses
A fertile or green spot in a desert or wasteland, made so by the presence of water.
A situation or place preserved from surrounding unpleasantness; a refuge: an oasis of serenity amid chaos.
Origin: From Late Latin Oasis, an oasis in the Libyan desert, from Greek, from Coptic ouahe, from Egyptian wḥ't.
The American Heritage® Dictionary of the English Language, 4th edition Copyright © 2010 by Houghton Mifflin Harcourt Publishing Company. Published by Houghton Mifflin Harcourt Publishing Company. All rights reserved.
---
oasis - Computer Definition
(Organization for the Advancement of Structured Information Standards, Billerica, MA, www.oasis-open.org) A membership organization founded in 1993 as SGML Open in Pittsburgh, PA. It was renamed OASIS Open in 1998 when its scope broadened to embrace XML and related e-commerce and Web technologies. More than 5,000 active participants from over 100 member companies work on developing Web services and related standards. OASIS sponsors seminars, conference panels, exhibits and other educational events. In 2002, OASIS absorbed UDDI.org, the organization involved with UDDI standards.
Computer Desktop EncyclopediaTHIS DEFINITION IS FOR PERSONAL USE ONLYAll other reproduction is strictly prohibited without permission from the publisher.© 1981-2014 The Computer Language Company Inc. All rights reserved.
---
oasis - Science Definition
Plural
OASES
oases
A small area in a desert that has a supply of water and is able to support vegetation. An oasis forms when groundwater lies close enough to the surface to form a spring or to be reached by wells.